28-30 January 2011 - EUCogII Workshop "Challenges for Cognitive Systems", Rapperswil
General Information
Organisers
Vincent C. Müller, Antoni Gomila
Dates
28-30.01.2011
(From 16:00 on the 28th to 13:00 on the 30th)
Location
Rapperswil Castle & Hotel Speer in Rapperswil, on lake Züri, Switzerland
- 60 min. by train from Zurich airport, 40 min. from Zurich main station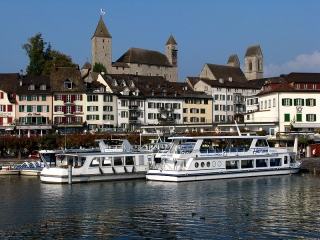 Aims
Formulation of a basic document describing the major challenges for artificial cognitive systems. This document should feature a) list of challenges, b) systematization of challenges and c) explanations for some of the challenges formulated. The document will be developed further and its publication online and in print is envisaged. (It will be discussed at the European Robotics Forum, April 2011 in Västerås.)
The set of challenges should:
provide a long-term vision and fruitful orientation for present work
be theory and strategy neutral (not fashion dependent, open to new approaches)
not be domain specific, not be oriented towards toy problems or scenarios
be systematic
be measurable
We expect that: A cognitive system successfully pursues goals; it is flexible (adaptive) and autonomous - challenges can thus be defined as degree of success towards this aim.
Format
Workshop with ca. 25-45 participants
Only short presentations/talks (perhaps with exception of presentation on euCognition roadmap')
Group work
3 days (1/2 + 1 + 1/2)
day 1: arrival & afternoon joint session (16:00-),
day 2: group work & afternoon joint session,
day 3: group work & morning joint session (-13:00) & departure
Input will be solicited through a questionnaire and the wiki (even during the event).
For details, see the agenda.
Final Report